Deal, A Poker Crime Drama
Over the years, it has become increasingly uncommon for movies to feature either a casino or a gambling scene. This is exactly the case when it comes to Deal, the 2008 poker crime drama starring Bret Harrison, Burt Reynolds and Shannon Elizabeth. Interestingly, when it came to casting this movie, casting directors made sure that they chose celebrities with plenty of experience at the poker tables. Through the film, viewers can expect to see appearances from the likes of Phil Laak, Jennifer Tilly, Chris Moneymaker and Isabelle Mercier. Below, you will find a closer look at what you can expect from this exciting movie.
An Overview Of The Plot
Deal follows the story of Alex Stillman. He is a law student who participates in poker games, both online and at home. He goes on to compete in an online tournament, the final of which is played live on television. While he does well in the tournament and reaches the final table, he is then eliminated by Karen "The Razor" Jones. Tommy Vinson, a retired professional poker player, watches the live tournament and takes an interest in Alex's talent. He sees his potential, but feels that he can do with a bit of help. Tommy then tracks Alex down and proposes that they work together. However, Alex is not at all keen on the idea at first.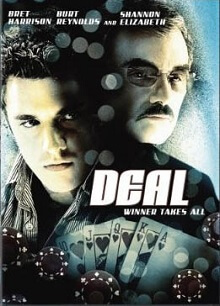 However, after some time, Alex calls Tommy up. Together, they spend a few days watching old tapes of other professional players. Tommy teaches Alex quite a bit about the game and then offers him a deal. If Tommy sponsors all of Alex's games, he will split all of the winnings with him. At this stage, Alex asks Tommy why he doesn't just play the game himself, and is then informed that Tommy hasn't played a game in over 20 years. After the game led him astray, he ended up broke and almost lost his house and his wife, which is when he decided that he would never again sit down at a poker table.
Alex agrees to the deal and Tommy takes him to Las Vegas, where he loses a bit of money. After observing him for a while, Tommy discovers that Alex has a tell that is giving his game away. He then helps him correct it. Throughout the film, we see Tommy coaching Alex and continuously help him to improve.
Production Facts
During the filming of Deal, the World Poker Tour set had to be shipped to New Orleans, where the movie's major scenes were filmed.
It is said that the cast of the film really bonded quite well, given the fact that they were all avid poker players, so they had plenty to talk about.
At the end of the day, Deal is packed full of the fun and excitement that audiences crave from movies. With edge-of-your-seat poker playing and a great storyline, Deal is perfect for those who love both worlds of cinema and poker.