Hard Eight
Hard Eight was a movie released in 1996 that was nominated for seven different awards and won one. This movie was produced by Robert Jones and John Lyons, with executive producer Hans Brockmann, executive producer Fancois Duplat, co-producer Daniel Lupi, executive producers Keith Samples, and associate producer Helene Mulholland. Music was created by Job Brion and Michael Penn. Cinematography was done by Robert Elswit who was nominated in the Independent Spirit Awards for Best Cinematography for this film. Film editing was done by Barbara Tulliver. Casting was done by Christine Sheaks. Production design was done by Nancy Deren. Art direction was done by Michael Krantz. Set decoration was done by David Koneff. Costume design was done by Mark Bridges and production management was handled by Daniel Collins and Craig Markey.
The cast for this movie included the following. Philip Baker Hall played Sydney. John was played by John C. Reilly. Gwyneth Paltrow played Clementine. Samuel L. Jackson played Jimmy. William Parker played the hostage in this movie. Philip Seymour Hoffman made an appearance as a young craps player. Smaller parts included Nathaniel Cooper as the restroom attendant, Wyn White as the waitress, Robert Ridgely as the Keno bar manager, Kathleen Campbell as Keno Girl, Michael J Rowe as the pit boss, Peter D'Allesandro as the bartender, Steve Blane as the stickman, and Melora Walters as Jimmy's girl.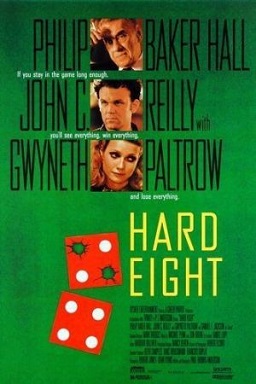 Hard Eight Plot
John has come on hard times and is trying to pay for the burial of his recently deceased mother. As he is sitting outside of a small diner out in the dessert, he is approached by an older gambler by the name of Sydney. Sydney feels bad for John, gives him a cigarette and offers to buy him a cup of coffee. Sydney then offers to take John to Las Vegas in order to show him how he can make good money gambling and not only survive but thrive on a day to day basis. Flash forward two years and John has not only raised enough money for his mother's funeral, but he has also become Sydney's full time protégé. John then meets a new friend Jimmy and has started to chase a cocktail waitress named Clementine in Reno, Nevada who moonlights as a prostitute. Everything starts to turn on its head when Sydney receives a call in the middle of the night from John and Clementine who are holding a man hostage. This man had refused to pay Clementine the $300 he owed her for her prostitute services. This is really when the movie starts to get interesting.
Hard Eight Movie Box Office
Hard Eight falls under the genres of both crime and casino drama and featured strong language along with some violence and sexuality. It grossed almost seventy thousand dollars on its opening weekend at the box office and another one hundred and forty two thousand after a week in the theatres. Total gross added up to a little over two hundred and twenty two thousand dollars with an estimated budget of three million dollars.