Mankatha Production and Cast
Mankatha is a 2011 film produced by Dhayanidhi Alagiri, Aqeel Qureshi and Vivek Rathnavelu. Music for this film was composed by Yuvan Shankar Raja and the cinematography was done by Saravanan. Film editing for this movie was handled by Praveen K. L. and Srikanth N.B. Videsh was in charge of art direction. Costume design for this movie was done by Vasuki Bhashkar. Ezhumalai Gnanamoorthy was the assistant production manager for this movie and M. Govindaraj, Sanjay Inamdar, and Muthuramalingam were the production managers. The controller for the production management team was Sundarraj.
Assistant directions for this film include K. Chandru, Fareed, Shaik Fareed, Prince Ransan Jonase, A.J. Vinod Kumar, Naresh Kumar, Karthick P., Saravanarajan, Senthil Velayudham, R. Venkatesh and co-director A. Pitchumani. The sound department was headed by Geeta Furappa, C. Sethu and Ramji Soma. Special effects were done by 3D generalist Azhagu Raj Pandian. Visual effects included motion control operator Eran Dolev, visual effects coordinator Prateeti Khare, digital compositor Kumran, on-set visual effects supervisor Prabhakaran, cg supervisor Purushothaman, visual effects supervisor Ashok Smith and visual effects producer Harihara Suthan. The music department in this film included lyricists, background music assistance, playback singers, and score mixers. This team added up a total of eighteen people.
Cast members for Mankatha include the following people. Ajith Kumar as Vanayak Mahadevan, Arjun as Prithviraj, Trisha Krishnan as Sanjana Arumugam, Premgi Amaren as Prem, Vaibhav Reddy as Sumanth, Anjali as Suchitra Sumanth, Andrea Jeremiah as Sabitha Prithviraj, Raai Laxmi as Lakshmi Rai, Aravind Akash as Faizal, Ashwin Kakumanu as Ganesh, Mahat Raghavendra as Mahat, V. Jayaprakash as Arumuga Chettiyaar, Subbu Panchu  as Kamal Ekambaram, Boys Rajan as the special squad office, Vj Ramya as the press reporter, Tulasi as Chettiyar's wife, and both Vijay Vasanth and Kainaat Arora made special appearances.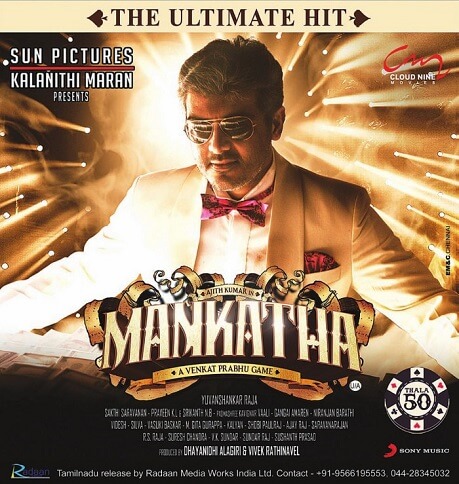 Mankatha Plot
Vinayak Mahadevan, a Maharashtra police office, gets suspended from the police force for helping a criminal smuggler get away at a police operation. He has decided that he is going to live his life the way that he wants to. As time goes on, he falls in love with Sanjana. She is the daughter of a local crime lord in named Arumuga Chettiyar that operates out of Mumbai. Meanwhile, there is a police offer named Prithvi who is busy trying to put a stop to a cricket betting ring in Mumbai. Things heat up as the lives of the two detectives cross and big money gets involved.
Mankatha Filming Details
This movie was filmed in India and the language the movie is filmed in is Tamil. Its original release date was the thirty first of August in two thousand and eleven. The budget for this film was four hundred million INR and its opening weekend it made three hundred and thirty four million INR. The production company used in this movie was Cloud Nine Movies.
This movie was nominated for seven awards and did not end up winning any. It was nominated for best director, best actor, best supporting actress, best film, best actor in a negative role and best male playback singer.