Getting To Know Casino Raiders Movie
Film is one of the most exciting forms of entertainment around, and each part of the world has produced its own unique take on their celluloid stories. For example, in the late 1980s, most of the movies that came out of Hong Kong featured or focused on casinos. One such movie is Casino Raiders. This action drama was written and directed by the duo of Wong Jing and Jimmy Heung. Fans of cinema got to see Alan Tam, Andy Lau, Rosamund Kwan and Idy Chan starring in the movie, which did quite well at the box office and led to two more sequels, No Risk, No Gain in 1990 and Casino Raiders II in 1991.
Plot Overview
Casino Raiders sees best friends Crab Chan and Sam Law, a pair of famous professional gamblers as the lead characters. One day, they are hired by business tycoon, Lung. He commissions them to help crack a syndicate, led by the father-son team of Kung and Taro, working within his casino in Las Vegas. Of course, Crab and Sam are able to bring the syndicate down, but not before they meet Koyan Tong, an heiress from Hong Kong who also happened to be on holiday in Las Vegas. Koyan and Sam then find themselves locked in a romance.
Once all of them had safely returned to Hong Kong, Sam discovers that his life is in danger when he is hunted down by a gang sent by Kung as a means of seeking revenge. Sam is then saved by his best friend and gambling partner, Crab. However, his left hand is severely injured and this impacts his gambling techniques.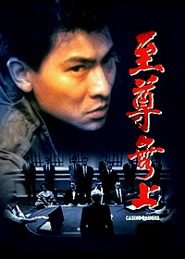 Sam agrees to go and work at Koyan's father's company as a means of staying out of trouble and making money away from a life of gambling. However, Kung is relentless in his quest to seek revenge. He hires more hitmen to try and get rid of Sam, but once again, his efforts prove fruitless when he is further injured but survives the attack. At this point, Koyan's father and Sam's new boss demands that he gives up gambling for good.
However, there is still plenty more action that follows in Casino Raiders. While Sam and Crab try to stay on the straight and narrow, there are several diversions that try to lead them astray.
The Cast
Casino Raiders had one of Hong Kong's biggest casts for its time. As mentioned above, names like Alan Tam, Andy Lau, Rosamund Kwan and Idy Chan could be found in this film's credits, but so could many others like Eddy Ko, Kirk Wong, Lung Fong and Charles Heung. This cast was enough to attract thousands of viewers to the box office, which counted a total of HK$23 292 339 in earnings from this movie.
All in all, this Cantonese film has all the makings of a box office success. With a little bit of drama, a lot of action and a blossoming romance, Casino Raiders gives audiences exactly what they want to see.