A Closer Look At Bob Le Flambeur
The world of gambling is an incredibly exciting one, as is the world of cinema. When the two combine, there can be no denying their entertainment powers. This is evident in films like Bob le Flambeur, which directly translates to "Bob the high roller" or "Bob the gambler." This French film is considered to be quite a revolutionary one which may well have served as a turning point for French cinema. Many critics consider this movie to be classified as "film noir," and view it as a predecessor to the French New Wave craze, as it was filmed entirely on a handheld camera. Released in 1956, this movie was directed by Jean-Pierre Melville and stars Roger Duchesne as the title character.
An Overview Of The Plot
The title character is a middle-aged gambler who has lived quite a life. As an ex-con, Bob le Flambeur lives in Paris' Montmartre district. Unfortunately, he has had a run of bad luck that leaves him very near to broke. While he is the kind of character that audiences immediately love and sympathise with, he has a troublesome past, which involves him spending time in jail as a result of a botched bank robbery attempt.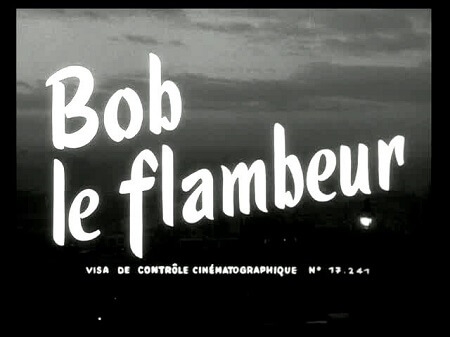 Bob le Flambeur is also packed full of action and intrigue. Down on his luck and with no other option, Bob decides to rob the Deauville Casino, which he has heard holds more money than he has ever even dreamed of. He goes on to devise an intricate scheme of how to get his hands on the money and hires an inexperienced protégé to help him along the way.
Plenty Of Action And Suspense
However, the casino robbery is not all that occupies Bob's time. He becomes romantically involved with Anne, a misguided young woman who also pays Bob's close friend and partner-in-crime Paolo, quite a bit of attention. Paolo makes the mistake of telling Anne all about their plot to steal money from the casino. She then later accidentally rats them out to an informant, who then notifies the police.
As luck would have it, on the day that the robbery is planned for, Bob le Flambeur hits a winning streak, which continues for hours. Here, he wins plenty of money and loses track of time. Once he realises what has happened, he cashes in his chips and tries to exit the casino. However, he is then met by the police and a hail of bullets. While Bob is able to escape harm, Paolo is not so lucky. Unfortunately, Paolo doesn't make it, but Bob is arrested and taken off to jail.
While none of this has gone according to Bob's plan, the movie still ends on an optimistic note, as it is implied that Bob may just get off without having to go back to jail, and his precious Anne will be waiting for him at home.
All in all, Bob le Flambeur makes for great entertainment as has all the makings of a great storyline – suspense, drama and a little bit of romance.