A Look At Asso, The Italian Comedy
Over the years, there have been plenty of movies either set in casinos or in casino rooms, where top players engage in gripping games that leave viewers on the edge of their seats. Every now and then, a unique twist is brought to them. Such is the case when it comes to Asso, an Italian comedy that is full of twists and turns. Filmed in Italy, the movie was released in 1981 and stars Edwige Fenech, Renato Salvatori, Adriana Celentano and Sylva Koscina. It was directed by the dynamic duo of Giuseppe Moccia and Franco Castellano.
The Plot
Asso has quite a complicated plot that involves plenty of surprises. The title character is well known for his poker skills. The movie picks up where he has just married Silvia, the most beautiful girl in his neighbourhood and his long-time love. She makes him promise to give up poker. However, a notorious player soon arrives and with his new wife's permission, he sits down to play one final game, which he ends up winning.
As he is on his way back home from the game, he is killed by an assassin. With his wife at the front of his mind, Asso returns as a ghost out of fear that she has been left alone without any way to support herself. However, when he returns, only Silvia can see and hear him, and it takes him a while to convince her that he's actually a ghost. He then gets to work on helping her find someone else to marry so that she never has to end up on the streets.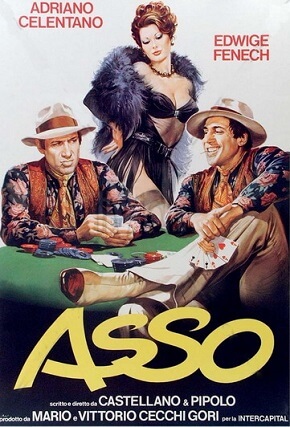 His quest leads him to Morgan, who has been described as a "feeble but rich" character. Naturally, Morgan is only too happy to have the attention of such a beautiful woman. However, this makes Bretella, another man who had hoped to marry Silvia before Asso did, incredibly jealous. It is then revealed that Bretella is the one who commissioned the assassin to kill the title character.
From this point onwards, the film continues to reveal several more twists, all while Silvia and her ghost of a husband work together to try and find someone to provide for her. The ghost will only be at peace once he knows that he has done what he needs to do in order for his beloved wife to be taken care of.
Critical Response
For its time, Asso was certainly a movie to be celebrated. With an intricate script and plenty of surprises, it made for great entertainment. However, given the fact that the movie is an Italian one, it was not really considered mainstream and there isn't much information available in terms of the critical response it received at the time. It is worth noting, however, that more recent reviews of this film have been quite promising.
At the end of the day, Asso very definitely has all the makings of a classic movie. With a great storyline and cast, it is made up of equal parts of comedy and excitement.