Casinos in Namibia
Namibia is not a country known for its casinos like say America or Monaco. Currently it only has three of them, although that does look to change in the near future. A moratorium on casinos was imposed by the Namibian government for ten years, and ended in 2006, which is why there are so few active casinos currently.
When the moratorium was imposed, the existing casino investors protested loudly and vigorously, which is a part of the reason that the ban was lifted in 2006. Another reason that the ban was lifted in 2006 was due to a massive licensing scandal. It was discovered that a local government officer and television commentator had been giving away fake licences to casino operators. Once the story broke it was discovered that a number of other officers in the environment and tourism ministry who controls the casino licences were also involved in the giving away of fake ones. Today there are three big casinos in Namibia offering a wide selection of games and experiences.
Avani Windhoek Hotel and Casino
The Avani is located in Namibia's capital, Windhoek, right in the centre of town. Styled after an American hotel and casino resort, the Avani has a restaurant, luxury hotel rooms and its own onsite Spa. The hotel holds a four star rating and recently underwent a huge renovation to bring it up to world class standard. The casino is open daily until 4am and has 132 slot and video poker machines and ten table and poker games.  The restaurant is buffet style and is open daily. The oasis bar is open well into the night serving snacks and beverages. Room service is available 24 hours a day for hotel guests and ranges from full meals with paired wine to snacks and sandwiches.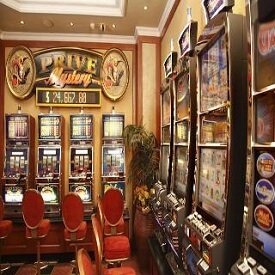 Mermaid Casino
The Mermaid Casino is in a town called Swakopmund, and also offers American style with a hotel, restaurant, bar and golf course. The actual casino is located inside the hotel and consists of 200 slot machines and 12 table games. There is not a huge variety on offer by way of table games, with only Stud Poker, Roulette and Blackjack to choose from.
Tournaments are organised regularly, attracting both hotel guests and locals. The actual hotel is not large, with only just over 100 rooms. It is a four star resort however and well known for its luxury. The Platform One restaurant offers diners a refined Victorian experience with both an al la carte menu as well as a buffet. The Captains Tavern restaurant boasts the best seafood in town and is a much more relaxed atmosphere serving burgers, ribs and the like.
Desert Jewel Casino
The Desert Jewel Casino is located inside Windhoek Country Club, just outside the town of Windhoek. The casino itself is spread over 15 000 square feet, and has 162 slots and eight table games. It's not a huge casino by American standards, and the choice of table games is limited to Blackjack and Roulette and one poker table. The casino opens each day at 10 am and closes at 4am.  Two on site restaurants offer different experiences, with the hotel restaurant offering fine dining and the club house a buffet.  The hotel itself is a four star rated hotel and boasts 152 rooms and two suites. On site attractions include an 18 hole golf course, conference facilities, hotel pool and lazy river as well as a fully equipped fitness centre.