Casino
God of Gamblers III: Back to Shanghai
God of Gamblers III: Back to Shanghai Production
God of Gamblers III: Back to Shanghai is the sequel to Gods of Gamblers 2 and the third total instalment of the series. Both Chow Sing Chi and Ng Man Tat have returned to their roles for this movie that was written by Wong Jing, produced by Jimmy Heung, Charles Heung and Jing Wong, and directed by Wong Jing. Assistant directors included Bosco Lam, Dion Lam, Ga-Wah Lui, Cheung-Yan Yuen and Woo-Ping Yuen. The music was done by Clarence Hui and Lowell Lo. Cinematography was done by Peter Pau and film edited by Kwei-Shing Kwok. The art department for this film was headed up by Wai-Ming Tam. The original release date for this movie was 1991.
The cast for God of Gamblers III: Back to Shanghai is as follows. Stephen Chow played Sing-chi Chow, also known in the movie as The Saint of Gamblers. Lio Gong played Yu-San and Yu-Mong. Actor Ray Lui played Ding Lik. Actor Man-Tat Ng played the role of Uncle Blacktie Tat – also known as Chow Tai-Fook. Actor Charles Ceung played Ng Looong – also known as God of Guns. Actress Sandra Kwan Yue Ng played Spring. Wan-Si Wong played the Japanese officer. Actress Sharla Cheung played Yee Mong. Actor Barry Wong played H.K. Police Chief Wong. Fong Lung played Wong Kam-Kwai. John Ching played Tai-Kun – also known as Devil of Gamblers. Keng Tien played the Mayor of Shanghai. Shun Lau played Eunuch Wei. Lung Chan played Tiger Lui. Indra Leech played The Price of Gamblers. Declan Wong played Pierre Cashon – also known as The French God of Gamblers. Jing Wong played H.K. Cop. Billy Chow played a Japanese soldier. Dion Lam played Tai Kun's Man and Ching-Ching Yeung played Ding's Femail bodyguard.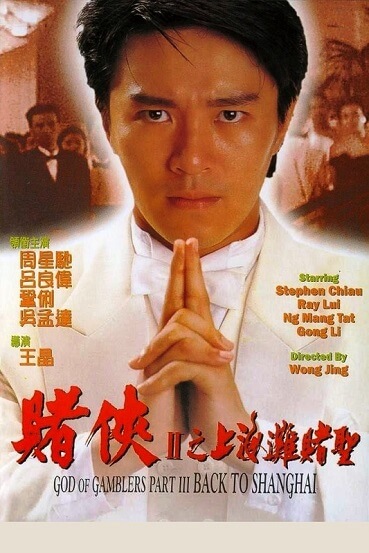 God of Gamblers III: Back to Shanghai Plot
The third instalment in this film series has moved away from the second instalment and only borrowed basic plot elements from the first. This leads to a more original movie than the second. The main character, Sing Chow, has finally mastered the art of gambling as it was taught to him by the God of Gamblers. He is now officially the Saint of Gamblers. He comes back to his home town to find that he is in great danger. There is a syndicate of gambling rivals who are now trying to muscle their way in to some of the money and fame that Sing Chow has achieved. This group of rivals, who also has telekinetic powers, attach Sing Chow and his uncle. In doing this, they accidently send him to Shanghai in the year 1937. Sing Chow gets back to this time and place at just the right time to save his grandfather. His grandfather's name in the movie is Man Tat. Sing is determined to find his way home, and makes friends with Ding Lik, a Triad boss, who wants to use his gambling skills in exchange for money. Sing is more interested in Ding's wife than his money. He has to decide whether he wants the money or the girl.
God of Gamblers III: Back to Shanghai Movie Elements
While there are many elements of comedy in this movie, the viewer can also see the actor's admiration for Bruce Lee. Keen eyes will see a training scene from Lee's 'Way of the Dragon' re-enacted in full.