Little Miss Marker Production and Cast
Directed by Walter Bernstein, Little Miss Marker is a comedy that was released in nineteen eighty. This movie was written by Damon Runyon and Walter Bernstein and produced by Jennings Lang and executive producer Walter Matthau. Music for this film was produced by the famous Henry Mancini and cinematography was done by Philip H. Lathrop. Film editing for Little Miss Marker was done by Eve Newman and production design was done by Edward C. Carfagno. Ruth Morley handled all costume design. The makeup department included hair department head John Issacs, hair stylist Connie Nichols and makeup artist Ron Snyder.
Second assistant director was Judith Vogelsand and the set designer was Roy Barnes. Sound department technicians included Thomas E. Allen as the boom operator, John R. Carter as the sound mixer and Roger Sword as the Sound Editor. Stunts were coordinated by Mickey Gilbert. Other crew included Gary Stark as the electrician, Mark Peterson as the costume supervisor, Joan Joseff as the costume jeweller, Chris Haynes as the driver and Wayne Fitzgerald as the title designer.
The cast for this movie included headliners Walter Matthau as Sorrowful Jones and Julie Andrews as Amanda. Blackie was played by Tony Curtis and Regret was played by Bob Newhart. Lee Grant played the judge while Brian Dennehy played Herbie. Other cast members included Kenneth McMillan as Brannigan, Andrew Rubit as Carter, Sara Stimson as the kid, Joshua Shelley as Benny, Randy Hermann as a clerk, Nedra Volz as Mrs. Clancy, Tom Pedi as Vittorio, Jacquelyn Hyde as Lola, Jessica Rains as a clerk, Jack DeLeon as the manager, Don Bexley as Sam, John Finnegan as a clerk, Henry Slate as a teller, and Al Hammer as Morris.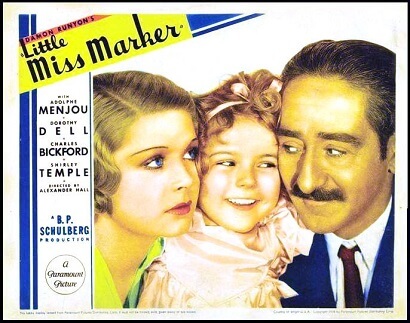 Little Miss Marker Plot
One of the main characters, Sorrowful Jones, is a small time bookie in the nineteen thirties. One of his gambling clients leaves their daughter with Sorrowful Jones as a marker for one of his big bets. Sorrowful Jones is now stuck with this gambler's daughter. His life is completely turned on its head as he tries to navigate his life with a young child in the mix. Things get even more complicated when he falls in love with a woman named Amanda. She is also in the gambling scene. Both the little girl and Amanda change Sorrowful Jones in ways he never imagined.  One might enjoy this movie if they are interested in gambling, the 1930s, love, horse racing, casinos, and gangsters.
Little Miss Marker Filming Details
Originally released on March 21, 1980, this movie has a total runtime of one hundred and three minutes. The production company for this movie is Universal Pictures and it was filmed in Santa Rosa, California in the United States of America.
This is actually the second movie to be made with this premise. The original was released in 1934 and stared Adolphe Menjou , Shirley Temple and Dorothy Dell.
This movie was also nominated by Young Artist Awards in 1981 for Best Major Motion Picture under the category of family entertainment.