Owning Mahowny Production and Cast
Directed by Richard Kwietniowski, Owning Mahowny was originally released in 2003. This book this movie was based on was written by Gary Stephen Ross and the screenplay was fully developed by Maurice Chauvet. This film was produced by Alessandro Camon, Andras Hamori and Seaston McClean. Co-producers included Bradley Adams, Damon Bryant, and Victoria Hirst. Executive producers included Sean Furst and Edward R. Pressman. Music for this film was produced by Richard Grassby-Lewis and The Insects. Cinematography was done by the director of photography, Oliver Curtis. Film editing was done by Mike Munn and casting by Deirdre Bowen.
Production design was handled by Taavo Soodor and art design by Diana Magnus. Set decoration was done by Erica Milo and costume design was handled by Gersha Phillips. The makeup department included Zuzanne Benoit as the key makeup artist, Erika Caceres and assistant makeup artist, Diana Mazur as a makeup artist, Madeleine Russell as assistant hair stylist, Moira Verwijk as key hair stylist, and Tijen Osman and Yesim Osman as hair consultants. Production management was done by Ted Miller and post-production supervisor Lori A. Waters. Special effects were done by special effects supervisor Brock Jolliffee and special effects technician Jon Davis. Stunts were performed by stunt coordinator Rick Forsayeth and stunt performer Darren McGuire.
The cast for this movie includes the late Philip Seymour Hoffman as Dan Mahowny, Minnie Driver as Belinda, John Hurt as Victor Foss, Maury Chaykin as Frank Perlin, Ian Tracey as Detective Ben Lock, Sonja Smits as Dana Selkirk, K. C. Collins as Bernie, Jason Blicker as Dave Quinson, Vince Corazza as Doug, and Roger Dunn as Bill Gooden. Other cast members include Eric Fink as the psychologist, Mike Nahrgang as the parking attendant, Tanya Henley as a teller, Brona Brown as a teller, Philip Craig as Briggs, Michael Caruana as Alex Retsnor, Gary Brennan as the man in the ice rink, Matthew Feruson as Martin and Janine Theriault as Maggie.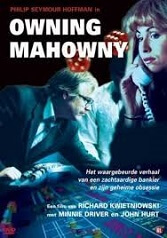 Owning Mahowny Plot
The main character of this film, Dan Mahowny was on his way to the top of the Canadian Imperial Bank of Commerce. He was only twenty four but had already managed to become the assistant manager of one of the big branches of the bank in the middle of the financial district in Tononto, Canada. Dan works more than he does anything else, but his customers see him as a star employee that's willing to go the extra mile for them.
While he seemed like an outgoing guy who enjoyed sports and parties, his friends and even his girlfriend did not know the darker side of Mahowny – the side that pulled off the biggest bank fraud in the history of Canada. To feed his gambling addiction, Dan stole over ten million dollars in a year and half.
Owning Mahowny Filming Details
Owning Mahowny was first released on January 23 in 2003 at the Sundance Film Festival. It then saw a limited release in the United States from May 2 of the same year. Filming for this movie took place in Ontario Canada. The budget for this film was $10,000,000 and it grossed just over one million dollars.