Rounders Production and Cast
Directed by John Dahl, Rounders was originally released in 1998. This movie was written by David Levien and Brian Koppelman. It was produced by executive producers Bobby Cohen, executive producer Kerry Orent, executive producer Bob Weinstein, executive producer Harvey Weinstein, associate producer Tracy Falco, associate producer Christopher Goode, and producers Ted Demme and Joel Stillerman. Music for this movie was created by Christopher Young. Cinematography was done by Jean Yves Escoffier who was the director of photography. Film editing for this movie was done by Scott Chestnut. Casting was done by Avy Kaufman.
Production design for this film was handled by Robert Pearson. Art direction was done by Rick Butler. Set decoration was done by Beth Kushnick. Costume design was done by Terry Dresbach. The makeup department included Victor DeNicola as a key hair stylist, Anthony Veader as a key hair stylist, Carla White as a key makeup artist, and Rita Ogden as an additional makeup artist. The production management team included Christopher Goode as the unit production manager, Robert Hackl as the post production supervisor, and Margo Myers as the production supervisor. Second unit directors included Nina Jack, Roger Lee, Peter Leto, and Christopher Swartout. Special effects were done by technical consultant James Brown, and special effects experts Edward Drohan and John Ottesen.
The cast for this movie included Matt Damon as Mike McDermott, Gretchen Mol as Jo, John Malkovich as Teddy KGB, Paul Cicero as the Russian thug, Ray Iannicelli as Kenny, John Turturro as Joey Knish, Merwin Goldsmith as Sy, Sony Zito as Tony, Josh Mostel as Zagosh, Mal Z Lawrence as Irving, Lenny Clarke as Savino, Peter Yoshida as Henry Lin, Lenny Venito as Moogie, Martin Landau as Abe Perovsky, Richard Maw as professor Eisen, Michael Lombard as D.A. Shields, Tom Alderedge as Judge Marinaccie and Beeson Carroll as Judge Kaplan. Edward Norton played Worm and Dominic Marcus played Downling. Other rolls included Melni Kanakaredes as Barbara, Kohl Sudduth as Wagner and Charlie Matthes as Birch.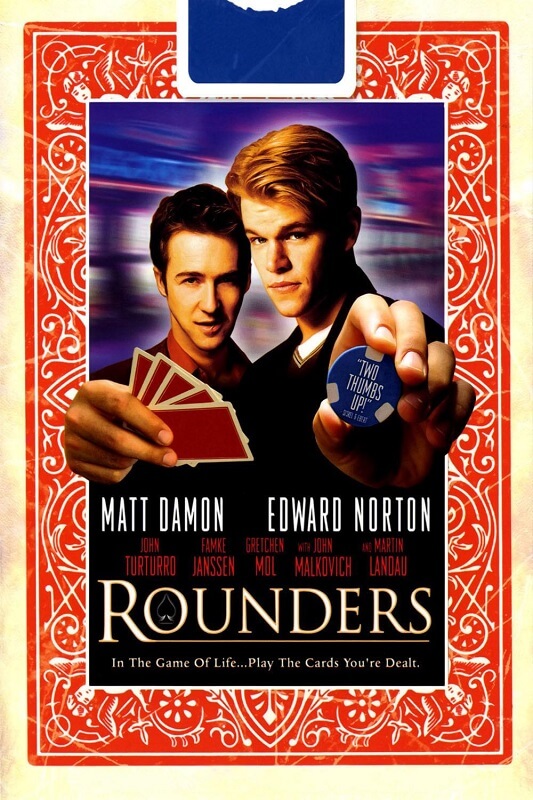 Rounders Plot
Skilled poker player Mike McDermott lost $30k in a bad hand of Texas hold'em while playing against Tedd KGB. Teddy is a Russian mob boss who operates an illegal poker room. Instead of trying to win his money back, Mike decides it's time to stop playing poker and focus on getting his law degree finished. He makes a promise to his friend and girlfriend that he is done with poker for good. In order to pay his bills, Mike takes on a part-time job driving around a delivery truck. Mike sticks to his word and gives up poker completely. Time goes on and Mike's old friend Worm gets out of jail. Worm is a poker player as well and he had the misfortune of racking up a huge debt before going away to prison. Worm then starts pushing Mike back into gambling, and things to be to escalate from bad to worse.
Rounders Filming Details
Rounders was released on September 11, 1998 in the United States and was translated into Russian and Hebrew in addition to being available in English. The budget for this film was $12,000,000 and its total gross was almost $23,000,000.