Street of Chance Production
Street of Chance was released in 1930 and directed by John Cromwell. Writers for this film include Lenore J Coffee, Howard Estabrook, Oliver H.P. Garren, Gerald Geraghty, Ben Hecht and Charles MacArthur. The producer of this film was David O. Selznick and the music was done by John Leipold. Cinematography was done by Charles Lang and film editing was done by Otho Lovering. Costume design for this film was done by Travis Banton and the sound department included sound engineer Harry D. Mills. The camera and electrical department was run by camera operator Daniel L. Fapp and the costume and wardrobe department was head by costume jeweller Eugene Joseff.
Street of Chance Cast
The cast of Street of Chance included William Powell as John D. Marsden or Natural Davis, Jean Arthur as Judith Marsden, Kay Francis as Alma Marsden, Regis Toomey as Babe Marsden, Stanley Fields as Dorgan, Brooks Benedict as Al Mastick, Betty Francisco as Mrs. Mastick, John Risso as Tony, Joan Standing as Miss Abrams, Maurice Black as Nick, Irving Bacon as Harry, Oscar Apfel as the bartender, G. Pat Collins as the police officer, John Cromwell as Imbrie, Gordon De Main as the gambler, Jack Luden as Holland House Hotel clerk, William H O'Brien as the waiter, Broderick O'Farrell as another gambler and Lee Phelps as Bert.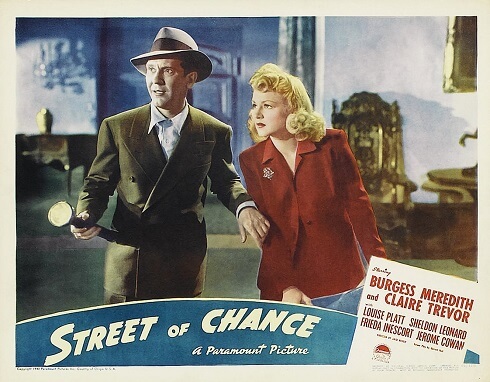 Street of Chance Plot
John Mardeson is a powerful and famous gambler in New York City. He sticks to his principles and has never intentionally lost a game in his entire life. He is very devoted to his wife. John also has a younger brother named Babe. As a wedding gift, John gives Babe ten thousand dollars. The condition of this wedding gift is that Babe is in no way allowed to spend it on gambling. John's wife Alma hates the fact that John is a gambler. She doesn't like his fixation with gambling and thinks the way he conducts his gambling affairs are unbecoming. She gets so angry that she says she's going to leave him if he doesn't take all of the money he has won and leave New York City with her.
John agrees to go. On the evening they are supposed to leave, Babe comes to New York City with Judith, his new wife. Babe actually believes that John is a stock broker and not a gambler. He is totally unaware about how John has made his fortune. Babe goes to gamble and tries to win big money by putting his savings at stake. While Babe wins, John can see that he is about to go down the same path that he went down, and it upsets him greatly. John then decides to chance his marriage and gamble once more. He intentionally throws a game but is caught by Dorgan.
John then becomes a target for the mob and is killed. His wife is unable to save him, despite her best efforts, and gambling ends up taking the life of the man who was desperately trying to escape it and keep his brother from being pulled down the same path that he was.