1979's The Champ Movie
In the world of cinema, it is not uncommon for movies that have fared really well at the box office to be remade. This is exactly what happened in the case of The Champ. Described as one of the most heart-wrenching, emotional storylines of all time, it was originally produced in 1931 and directed by King Vidro. However, 48 years later, the movie was remade. This time, it was directed by Franco Zeffirelli and starred some of Hollywood's biggest names, including Faye Dunaway, Jon Voigt and Ricky Schroder. Below, you will find some more information on this much studied, hugely successful piece of celluloid.
A Look At The Plot
The Champ has a simple, yet moving plot. It focuses on Billy Flynn, the lead character. Billy is a former boxing champion turned horse trainer. He is based in Hialeah in Florida. He doesn't make much money in this new profession, but he has just enough to support himself and his young son TJ, who he has had full custody over ever since Annie, his wife, left him. TJ absolutely adores his father and wants nothing more than to spend time with him.
However, Billy Flynn has a few gambling debts that he needs to pay off. In his current financial situation, this does not at all seem possible. As a result, he starts working on his massive return to boxing in the hopes of being able to make enough money to settle all of his debt, as well as to provide a better life for TJ.
One day, out of nowhere, Billy's estranged wife Annie reappears and wants to become a part of their son's life.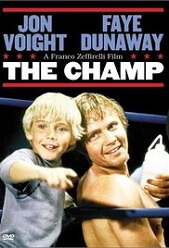 Awards And Recognition
As a whole, The Champ was not met with rave reviews by critics, as they felt that it showed life in a rather unrealistic way. However, this does not mean that the film was not awarded with a few prizes, as certain aspects of it, including the performances from the cast, truly stood out.
At the age of just nine, Ricky Schroder won the Golden Globe Award in the "Best New Male Star of the Year in a Motion Picture" category. Jon Voigt was also nominated for the Golden Globe for Best Actor in the same year, but lost out to Dustin Hoffman, who won the award for his role in Kramer Vs Kramer.
Interestingly enough, The Champ has been labelled as "the saddest movie in the world" plenty of times. The movie's final scene has been used in numerous studies of psychology and is often used as a means of getting an emotional response out of someone. The last three minutes of the movie are particularly moving, a fact which was confirmed by a 1988 study that compared clips from over 250 films.
All in all, The Champ has plenty of entertainment value to offer its audience. From a gripping family story to the endless means that a father will go to in order to provide for his son, this movie comes highly recommended.