The Hot Shoe Plot
The Hot Shoe is a documentary about the skill of card counting. Card counting is used to beat the house's advantage in Blackjack. For this documentary, many experts were consulted and their techniques highlighted
The Hot Shoe Cast
Andy Block is the first card player to be featured in The Hot Shoe. He studied at MIT and became part of the MIT Blackjack team while he was there. In a single game of Blackjack, Andy Block has made up to one hundred thousand dollars. He also joined the MIT team when they went to play in Monte Carlo. This event is detailed in the documentary called 'Busting Vegas' by Ben Mezrich. He has also created his own Blackjack instructional DVD called 'Beating Blackjack". In this DVD, he explains card counting
Anthony Curtis is the second card player to be featured in this documentary. He is a well-known Blackjack player and gambler. He is also a published author and a publisher. Anthony is in charge of a newsletter called 'Las Vegas Advisor' which was started in 1983. This newsletter details various discounts available in Las Vegas. He also runs Hunington Press which is a publishing house focusing on books related to gambling.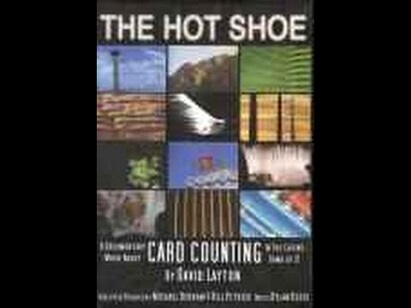 The late Peter Griffin is the third card player to be featured in this documentary. He was an author and mathematician who excelled in Blackjack. In fact, he was one of the original members of the Blackjack Hall of Fame. Peter was also the author of the book 'The Theory of Blackjack.
Thomas Hyland is the fourth card player featured in this documentary. He is a famous Blackjack card counter. In addition, he is the manager of a very special Blackjack team. This team has been around since 1979 and is well-known as the oldest blackjack team in existence. This team started with $16,000 and within about three months had increased that number to $50,000. He is known for using the advanced techniques of shuffle tracking, computer play and ace sequencing.
Max Rubin is the fifth card player featured in this documentary. Max is an expert gambler and also an author. His book, 'Comp City: A guide to Free Gambling Vacations' shows the player how to get the most out of casino perks without having to wager much money. He is also a gambling analyst for TV. Max is also a card-carrying member of the Black Jack Hall of Face and the host of the Blackjack Ball. Lastly, Max works as a consultant for casinos.
Edward Thorp is the sixth card player featured in this documentary. Edward is an author, math professor, Blackjack player and hedge fund manager. He also invented a wearable computer in 1961 – something that was quite astonishing at the time. He is known to have paved the way in the application of probability theory which uses small correlations to make reliable amounts of money. In addition, Thorp is the author of Beat the Dealer. This book was the first to show that you could beat the house's edge by counting cards. Edward also has his Ph.D. in math from UCLA and put in time at MIT in the late 50s and early 60s.
The Hot Shoe Case Study
In the movie, Layton was given $5,000 to gamble with. This was taken from the film's budget in order to show what an expert could do with the skill of card counting.