The Lady Gambles Production and Cast
The Lady Gambles is a 1949 melodrama directed by Michael Gordon. The screen play was written by Roy Huggins and adapted by Halsted Wellles. The story was developed by Lewis Meltzer and Oscar Saul. The movie was produced by Michael Kraike and music was developed by Frank Skinner. Cinematography for the film was handled by Russell Metty and the film editing was done by Milton Carruth.
Art direction for this film was done by Alexander Golitzen and set decoration was done by both Russell A. Gausman and Ruby R. Levitt. Costume design was handled by Orry Kelly. Production management for this film was led by Lew Leary and the sound department was run by both Leslie I. Carey and Corson Jowett. Special effects for this movie were done by David S. Horsley. The costume and wardrobe department was headed up by Joan Joseff.
There were eighteen members of the last in this production that were credited on screen. These include Barbara Stanwyck who played Joan Boothe, Robert Preston who played David Booth, Stephen McNally who played Horace Corrigan, Edith Barrett who played Ruth Phillips, John Hoyt who played Dr. Rojac, Elliott Sullivan who played Barky, John Harmon who played Frenchy, Philip Van Zandt who play Chuck, Leif Erickson who played Tony and Curt Conway who played the bank clerk.
Other small rolls in this film included the pawnbroker played by Houseley Stevenson, Mr. Dennis Sutherland played by Don Deddoe, Mrs. Dennis Sutherland played by Nana Bryant, the bellboy played by Tony Curtis, Jack Harrison played by Peter Leeds, Murphy played by Frank Moran, the gross lady played by Esther Howard and Bert played by John Indrisano.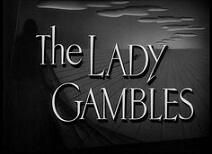 The Lady Gambles Plot
One of the main characters, Joan Boothe, goes with her husband to Las Vegas. Her husband, David Boothe is a reporter. While in Las Vegas, Joan Booth starts to gamble in order to make the time go by more quickly. Joan Boothe then meets the casino manager who encourages her even further to really take her gambling to the next level.
She then gets completely addicted and started to take things too far. Desperate for money, Joan uses her husband David's reporter expense money in order to fund her new addiction. This eventually leads to the complete destruction of their marriage. Despite this, David Boothe continues to try and help his wife with her gambling problem.
The Lady Gambles Filming Details
This movie has a run time of ninety nine minutes with a mono sound mix and was filmed in black and white. The filming locations for this film include the Hoover Dam at the Arizona-Nevada border, Lake Mead in Nevada, Las Vegas in Nevada, and Universal Studios at 100 Universal City Plaza in Universal City, California. The production company for The Lady Gambles is Universal Pictures. The film was first released in New York City, New York on the twentieth of May, nineteen forty nine. It was released in the UK two months later and saw releases in other countries around the world from nineteen fifty to nineteen fifty one.