Casinos Austria One of the Largest Operations Worldwide
Austria is a highly respected German-speaking country in Western Europe. The country is part of the European Union and has legal gambling and gambling venues. There are 13 cities in Austria where gambling facilities can be found, many of which are tourist orientated. Austria is home to 14 legal gambling facilities in total.
The 14 facilities in Austria fall into 12 stand-alone casinos. All the casino facilities in the country are managed by the Casinos Austria group, who are the owners of the exclusive license to operate casinos in Austria. This makes Casinos Austria one of the largest casinos operator in the world. The Austrian casinos that fall under this group are to be found in all the primary tourist destinations. The casinos are located in Vienna, Salzburg, Innsbruck, Kithzbühel, Baden, Bregenz, Velden and Graz.
Gambling Options Available in Austria
Broadly speaking, the available gambling types that are to be found in Austria include casinos, horseracing tracks and large sports-betting parlours. The single city with two casinos is Linz, and although this sounds quite impressive the total casino facilities in Linz amount to only 17 table games and 180 slot and video poker machines.
The largest casino in Austria is in Baden, and is imaginatively called Casino Baden. Casino Baden has 36 table games and some 314 slot and video poker machines. Both Linz and Baden are tourism-based cities and as such the casinos simply add to the number of attractions available in the cities for visitors.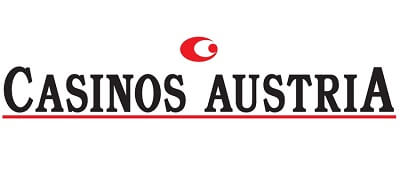 Casinos in Austria
The characteristics of Austrian casinos, are much the same as for the country as a whole, which is an atmosphere of warm hospitality. The casinos in Baden, Salzburg and Kithzbühel, have been in operation since 1934 and today are known for a wonderful combination of old venue style with a vibrant cosmopolitan atmosphere.
Although perhaps not the huge volumes, pretty much most casino table games can be found in Austrian casinos. Roulette, Blackjack, Baccarat, Poker and slots games are all available. One of the more interesting and advantageous aspects to having all the casinos managed by the sole operator, Casino Austria, is that there is the opportunity to link the casinos with a progressive jackpot. This progressive jackpot is called Mega Million, and thanks to the linkage between all 12 official casinos is Austria, regularly carries a jackpot total of more than € 1 000 000.
Although the opening hours of Austrian casino do vary, there are certain aspects that are common to all casinos in the country. Firstly, admission to any, and all casinos in Austria is free. Visitors are nevertheless required to be older than 18 years old and this is enforced, because patrons need to present a valid photo ID in order to enter. The dress code at the casinos is semi-formal and men are required to wear a jacket. Fortunately lederhosen are no longer required.
Casinos Austria International
All this makes Casinos Austria International (CAI) prominent player within the global casino gaming industry. The casino development and management services now have representation in 13 countries around the world, and this includes 27 brick and mortar casinos, 6 casinos on board ships and one online operation.