Majestic Star II Riverboat Casino
The USA is home to some of the biggest and the most beautiful casinos in the World. Any casino enthusiast will know that the major gambling hub is located in Las Vegas Nevada. Today many states in the US offer gambling in a variety of unique and luxurious casinos. One type of casino that is extremely popular is the riverboat casino. Due to strict gambling laws, many casinos could not be built on land in the area. The answer was to build riverboat casinos that could be docked in a harbour. In Indiana, the Majestic Star II is a popular riverboat based in the city of Gary.
A 24 Hour Casino with Over 1300 Slot Machines
Formally known as the Trump Casino, the Majestic Star II is an impressive multi-story riverboat casino complex that is docked in Buffington Harbour overlooking Lake Michigan. The complex houses a 24 hour casino, a 300 room hotel, 6 restaurants and eateries, a convention centre, a health club, a swimming pool, Jacuzzis and a gift shop. The casino itself is open every day of the year and offers a wide selection of slots and table games. With over 1300 slot machines to choose from, slot enthusiasts will find all their favourite slot games including the latest video slot as well as classic slots and progressive slots.
Live Casino Games
In the electronic gaming section of the casino, the Majestic Star II also offers over 200 video poker machines as well as electronic keno. In their live games section, the casino houses a total of 32 casino table games with both high and low limit tables. The live games offered at the casino include blackjack, roulette, baccarat, 3 card poker, craps, let-it-ride, Pai Gow, Spanish 21, mini-baccarat, as well as classic poker and Caribbean stud poker. The casino houses a dedicated poker room as well as dedicated baccarat room for high and low players.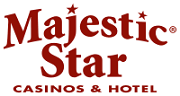 Hotel and Entertainment
If you are looking for a place to stay, the Majestic Star II casino complex houses a luxurious hotel just steps away from the casino. The Majestic Star Hotel overlooks the Lake Michigan and offers mini suites, large suites as well as Jacuzzi suites. Each room offers complimentary coffee, free Wi-Fi, onsite parking, a complimentary shuttle service to the casino as well as breakfast options that can be organised through the front desk. In terms of entertainment, the casino houses an indoor swimming pool as well as a Jacuzzi and a health club where visitors can get a workout. The casino also houses a small gift shop where visitors can be small necessities as well as a variety of gifts and memorabilia.
Dining Options
When it comes to dining, the Majestic Star II offers a range of restaurants and eateries that cater for just about every taste. The main restaurants at the casino include the steakhouse for meat lovers, the Steel City Grill for burgers and small meals, as well as the Harbour View Buffet for where visitors can enjoy a wide selection of ribs, seafood and Homestyle cooking. The Star Kitchen noodle bar offers a taste of the orient while Jackpot Java offers a variety of coffees and sweet treats.